Modern missions
Several mini-exhibitions provide an overview of the Marine Corps missions from the 1970s to the present. Support in peacekeeping missions (Uruzgan), and anti-piracy (Somalia), but also the specialist training courses provide a good picture of the worldwide deployment of the marines.
In Somalia
ANTI-PIRACY MISSIONS
Pirates have constituted a threat to merchant shipping across the globe for centuries. Since 2005, piracy activities off the coast of the East African country of Somalia have been on the increase. Drought, civil wars and a sea depleted by foreign fishermen have pushed the Somalians into extreme poverty. As a way out, many opt to go out pirating. Armed Somali pirates hijack ships and hold the crews hostage, demanding millions in ransom.
To combat these pirating activities, various international military operations have been conducted since 2008, in which the Netherlands Navy continues to join in. The contribution of the marines has been instrumental in this respect. The approach adopted has turned out to be successful, with the seizing of ships now as good as eradicated.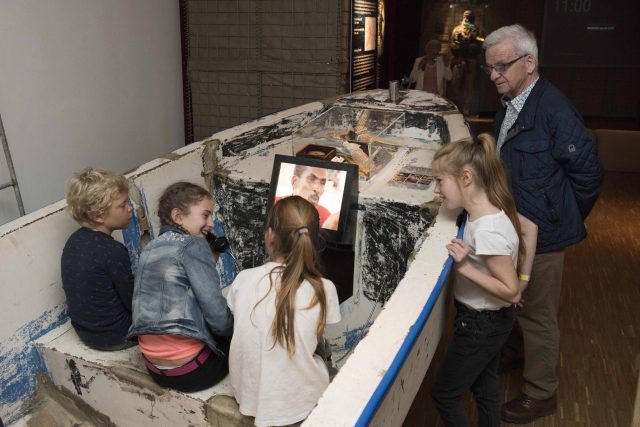 Deployment of Marines
Marines from the Maritime Special Operations Forces (MARSOF) are deployed to detain and search suspected pirate boats using intercept vessels. They can also rescue hijacked ships with the help of helicopters. Another form of protection is placing a group of armed marines aboard merchant ships, the Vessel Protection Detachments. These marines sail along on the part of the route where pirates are active and thus know how to prevent hijackings.
Mini exhibition
In the mini-exhibition, the story of piracy in Somalia is illustrated from two sides on the basis of objects that were confiscated. A special object of anti-piracy action is a Skiff, which was used by pirates off the coast of Somalia. In this boat, you can watch a film about how pirates work when hijacking ships. An exciting boarding action by the marines is shown on a large screen and of course, the equipment of a marine is not missing during this action.
Take a seat
Amphibious vehicle
The central eye-catcher on the second floor is the BandVagen 206 (BV-206), a military tracked vehicle used by the Marine Corps as an 'all terrain carrier'. This vehicle is extremely suitable for use in extreme weather conditions, such as deep snow in Norway. The vehicle is accessible to visitors.
More information